Love in the Time of Coronavirus
Episode 6: What bad happened?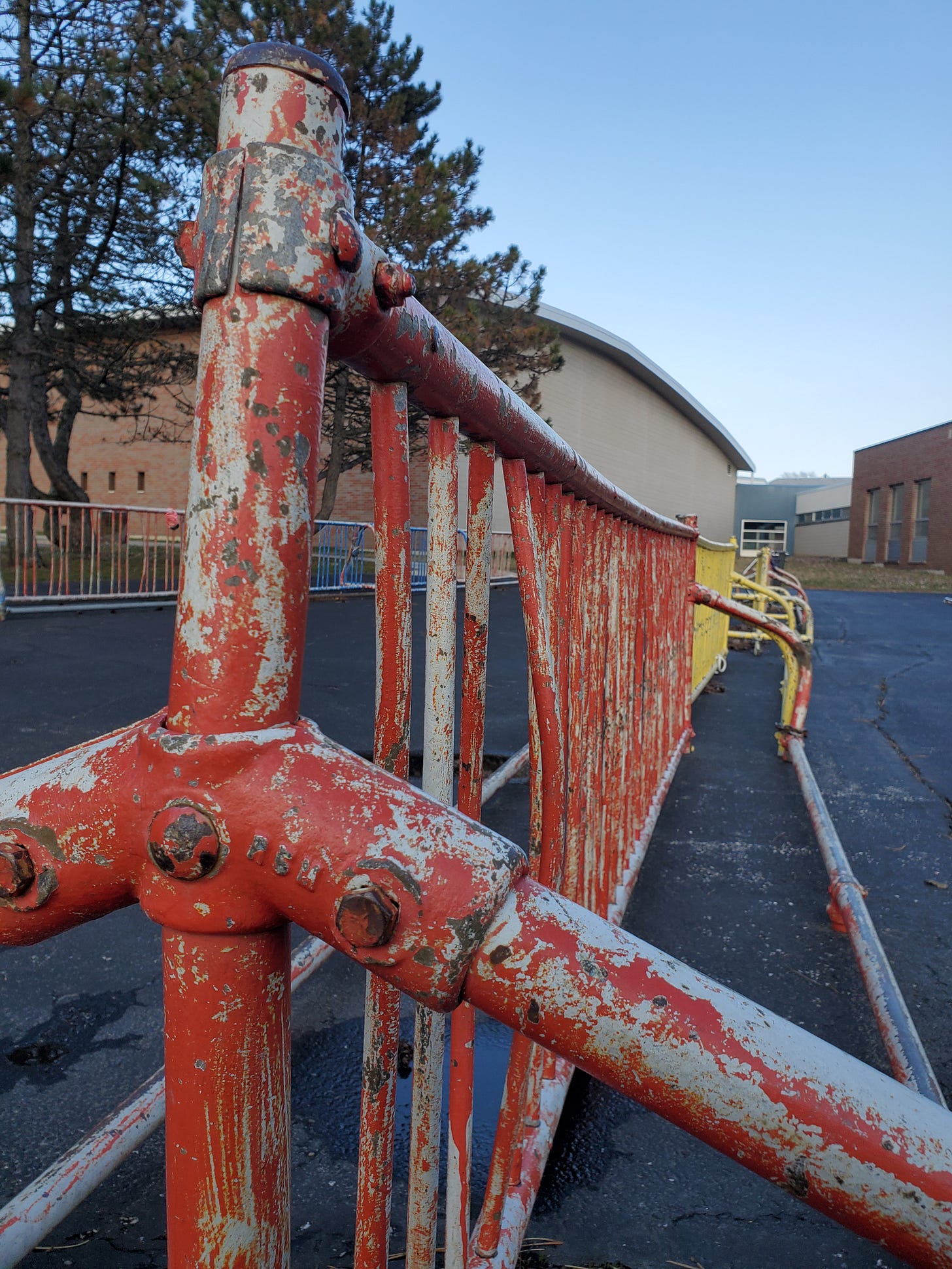 Hello.
I very rarely feature or fixate upon faces in the pictures I take. Despite not being a portraitist, though, I'm captivated by them as the surface for so many, many landscapes, ones that I find far too raw to capture within a single frame. So many difference decision to make when looking at the terrain of a face. My decision to focus elsewhere has so much to do with what I was raised with, but that deserves a different treatment for another time.
Instead, I want to tell you about yesterday afternoon. A Sunday salon of sorts. WMC gathered a bunch of us, digitally, to share words, smiles, gestures, a grin, and sometimes, silence with an ambient hum that might lie behind a person's window or in the room immediately adjacent. What I saw, in real-time (minus the few seconds' lag of a Zoom call) were faces, arrayed in a grid, from all around, waiting, watching, listening, hoping, feeling, and wandering. Several faces I knew in person, having spent anxious rideshares spiraling a subdivision on a very tense morning, or roaming a dank food hall on a wintry afternoon in search of ramen. Most everyone felt new, even if we "knew" of each other from the digital realms we now consider real life. Sensing one another's presence in these rows of faces, we listened to one person recite Gerard Manley Hopkins, or Emily Dickinson. It was an experience that made me feel alive, thrilled, ready.
As mentioned in my last missive, I am dealing with what I'm told is temporary hearing loss in one of my ears. When trying to listen closely to others in digital modes, I wear a large set of headphones. Instinctively, I lean in closer to the screen, knowing that it doesn't necessarily make a difference in how I might receive sound waves. While there is evidence that persons experiencing deafness can indeed feel music, I am especially attuned at this moment to any way I can feel sound, even if it's just the bass notes that I can sense rather than the higher melodies which are not as discernible to me.
What I didn't expect from yesterday's 'salon' were tears. I was hoping no one would notice, but there they were (I wiped them away quickly). It started when the second reader (Rob) began this piece from In the Presence of Absence by Mahmoud Darwish:
You smile: Nothing interests me. Then you turn the radio dial to listen to the news. Snow and avalanches, snow and strikes, snow and elderly people dying. There is no snow east of the Mediterranean, so no news. You turn the radio off and go to the bathroom. You gaze at your face in the mirror: Nothing new except irony rising to the eyebrows. No enemy is stronger than time and no rival nobler than the mirror. In the past, time would pass slowly, like an ant. We used to egg it on: Hurry up! We have a date in an hour, but the clock's hands did not respond to the flow of our hot blood. Time was lazy, as lethargic as a student, and as tedious as a teacher. It incited us to grumble about sluggishness, and never allowed us a glance at the past, because youth has no past. We devoured difficult books and let our knowledge simmer in time's pot like a wild mushroom goat whose flesh calls for spices the doctor has forbidden, and because we failed to make it to the banquet at a reasonable hour, we fell into an unequal race with time, who pilots his spaceship at breakneck speed.
The rest of this piece meanders through all the ways one wastes and spends and saves and rushes against and wanders along with time. Listening to this piece being read aloud felt like I being known in ways that I hadn't admitted to myself, if that makes sense. The tedium of work home sleep, work home sleep, all cast against the wall with deep contrast now that I am mostly home, asked to work from home but also make my home a work in progress whose edges are now seen in ways I've tried so very hard to hide. Time is all I have, and time is all you have, and time is all we have, and why does there seem to be so little time to express what I might even mean? To rephrase it: there's an urgency to our world now, we're staggering and stumbling to make everything fit while staying in place, piloting our personal spacecraft at speeds intended to defy capitalism and modern medicine and the cruel expediencies of congressional budgets that never bothered to read the summaries of intelligence briefs that might mean more to this humble layperson.
But here I am. There's faces in front of me, awaiting the next person to share their chosen passage from a beloved text. It's a comfort that helps me skip to the next day and the one after that, marking time in ways I had never divined.
***
Walking on sidewalks, I teeter on the edge. I walk brisk, knowing I have to return to my home base soon. Each passerby gets a small smile and half-whispered hello, all of us trying to get whatever we can from the air around us before collapsing back into our respective shelters. Today, I finally achieved what I thought would not happen: a tall, young-ish white man, dressed in a blue tracksuit, moved aside to walk in single-file behind his girlfriend, he and I briefly nodding at one another in acceptance of one another's assumed solidarity via distancing. Ever since I was a child, I was taught to make my self smaller, to shrink and be unassuming, to not take up space (before that even became a tired meme). And now, I find people shrinking around me, nervous that this might be that moment where I or they transmit the virus that neither of us are quite sure that we have.
The ways we isolate have become of utmost importance. There's layers of anxiety about things we can't know, and so we're told to focus on what we do know, an adage that doesn't feel adequate, aphorisms which quite frankly led me to my own ramblings here. For what could it possibly mean to make space now, in a country and a society that will never truly see me the way that I'd like to be seen? What does it mean to take up space now, positively infected with doubt, but nowhere near as ground to dust and called upon to rise up, again and again and again no matter how broken?
Earlier this month, I was fixated on Cathy Park Hong's Minor Feelings (which you can read an excerpt of here). Seven essays that explore facets of what it might be to identify as Asian American in contemporary America, it's also a reckoning with all that we (i.e. Asians in America of all stripes) are told to swallow. The kind of feelings that coexist with all the other forms of disenfranchisement and violence committed against people who are not quite white:
Minor feelings occur when American optimism is enforced upon you, which contradicts your own racialized reality, thereby creating a static of cognitive dissonance. You are told, "Things are so much better," while you think, Things are the same. You are told, "Asian Americans are so successful," while you feel like a failure. This optimism sets up false expectations that increase these feelings of dysphoria. 
Looking back on what I read just mere weeks ago, I'm delighted by its clarity. I'm also curious (and naively, not frightened yet) by the dysphoria, something I have grown to acknowledge more and more as I get older as I find myself negotiating what it might mean to be brown and explaining - or rather, sharing - what it's like for the young brown people who look up to me to provide the why.
Yet what can I say? Sure, there's trauma. Plentiful trauma, even for an upper-caste, middle-class, English-speaking, diasporic woman with a stable roof over her head and a U.S. passport: one whose parents certainly never went hungry and rather found economic mobility, albeit abroad, only to subsume whatever pride they had about their lineage into semi-permanent economic anxiety; and whose grandparents might have gone hungry, or suffered some indignity about never being fully civilized, or scrambled to find a place among the scores of civil servants and landowners who would continue to remain subservient to colonial powers, yet somehow survived Partition, world war, famine, infectious diseases, stillborn children, and other ordinary heartbreak that I will never know. But much of this trauma, perhaps inherited, perhaps faded altogether, absolutely pales in comparison with the immense histories incorporated by Black, indigenous, and Latinx persons still struggling to find their selves seen, heard, and felt in this violence country. After all, I can't really complain about being that only person of color, because my color is not really seen as a color (nevermind the many admonishments I once received to avoid direct sunlight or refrain from wearing anything white for who would dare marry someone so. . . .).
***
"What bad happened?" I can't even begin to trace a narrative out of anything bad, even now, because yes, the good mostly outweighs the bad, and yes, the beauty I still want to see is there when I search for it. I cackled with delight when I finally made time to read this from Sasha Hemon (an essay that was later expanded into a larger piece for My Parents: An Introduction/This Does Not Belong to You, definitely on my "to-read" list):
Which is to say that normal life is delimited and defined by catastrophe—it's the life ruptured, the life made both unavailable and visible by katastrofa. And, inversely, katastrofa is whatever ruptures life, what makes its stability, its necessary biological and emotional inertia, impossible. Much as catastrophe in tragedy necessitates the resolution of the plot, katastrofa necessitates a narrative of normal life, which we can perceive only through the catastrophic screen dividing our life into before and after.
What marks before, what means after, what's the dividing line? And if there's no thunder and lightning, what does one do with all that space to narrate a life? What sections can be used for bloodletting? What symptoms must be had in order to declare, "a yes, and a yes" against all that came before? (Warning: these last two links contain quite a healthy dose of cheese.)
I'm not sure what kind of story will emerge if and when I finally find myself able to narrate what the present is like. Self-isolation scares me, as it should. Human beings aren't meant to be without one another's presence. There's evidence that solitary confinement is torture, and that we should be very careful to understand the differences between social distancing and the incarceration complex, and that we will therefore take our lessons as needed. Steven Thrasher writes: "There's power in how, for the first time in history, any human on the planet can instantly communicate with any other and talk about facing the same challenge. This new crisis will change everything. Everything. Everything about how we work and socialize, everything about how we make love and make politics. It might very well be a less haptic world, a more screen-centered and surveilled world." Someone told me today that they couldn't wait until everything was back to normal. I told them that no, it would never be normal. Was that my moment of katastrofa? Maybe, but I can't see this moment as my personal tragedy (yet). It's disappointment, inconvenience, frustration, disbelief, and an isolated feeling of horror. I can see red, I understand alerts, it's here in front of me, but I haven't found ways to make this alarm tangible because that might uproot me altogether.
Finding new ways to see each other. Looking at one another. Seeing faces, understanding bodies are around us. Last lines, a bit of beauty via Pooja's newsletter:
What would it be like, I thought, to be a woman who accomplished things but was also beloved? It was something to do with seeing and being seen, I thought, but I didn't know what, yet. Decades later, when story after story tells us what we already know—that too often being seen equals being hurt—it's extraordinary to see a collection of photographs in which a fiercely talented and accomplished woman is presented with humor, admiration, and love.
I see you. What bad happened? Tell me next time.