Love in the Time of Coronavirus
Episode 5: Let me in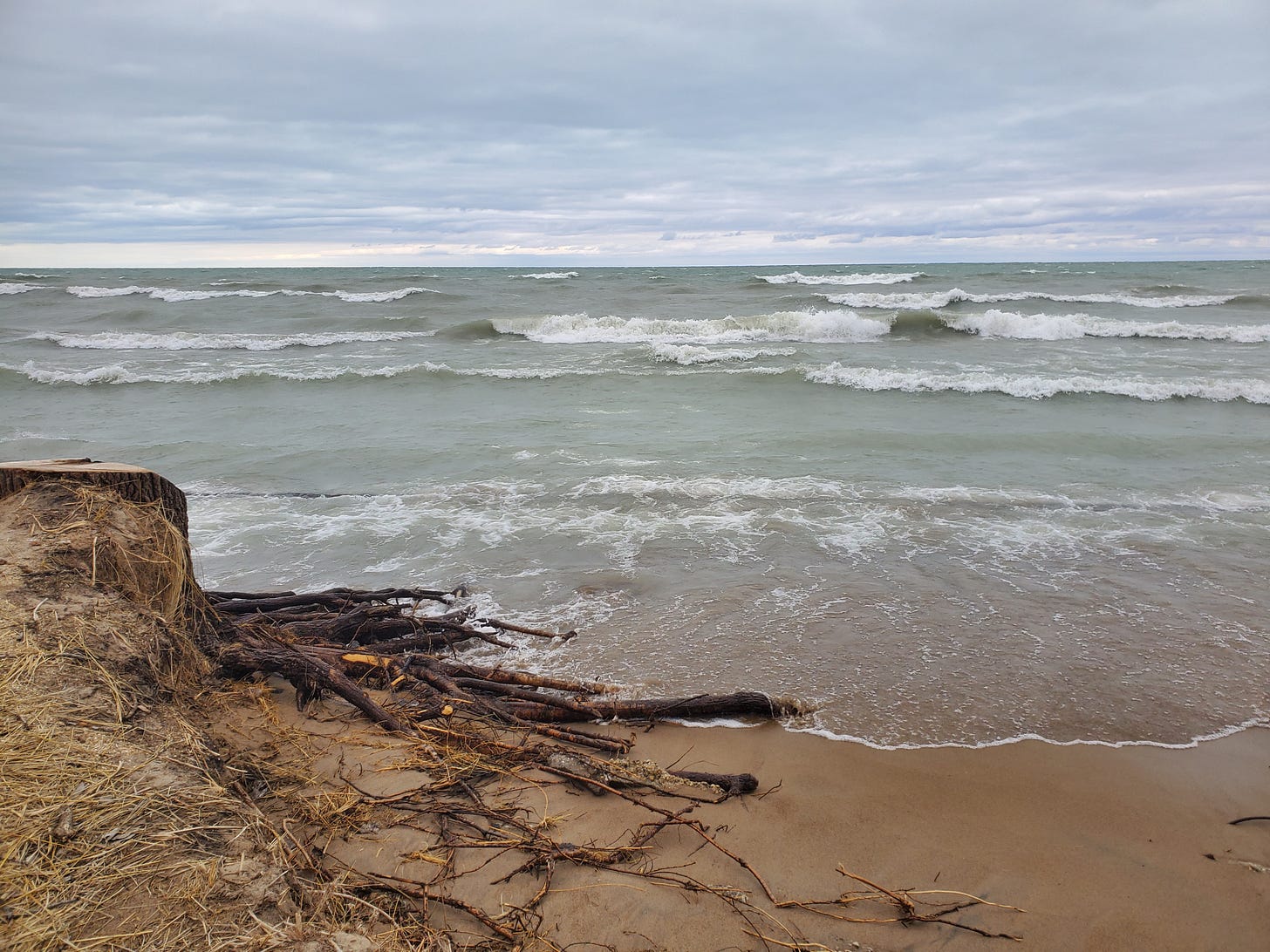 Hello.
As soon as I stepped onto the beach, I wondered if I had made a mistake. The wind made each successive batch of waves faster and faster, and the temperature had fallen fast, my un-gloved fingers chilled and scolded for daring to walk without appropriate wintry accessories. There were others around me, walking their dogs or making a quick run around the adjacent park or, in the case of one bright soul, kite-surfing in a wetsuit because after all, an encroaching 'shelter-in-place' order does not equal the end of all that our bodies can do, cold be damned. I found one tree stump that had been chopped off against the artificially sandy coastline of the beach, a casualty of erosion or more likely, a danger to itself despite the extensive roots waiting to be engulfed or extracted.
It's been a week since our gradual, self-imposed solitude began. Initially, M. and I decided that we would celebrate the beginning of what we didn't know by fulfilling a long-standing reservation. It was nerve-wracking, sitting over pale pink palomas and margaritas, thinking over what might be our last meal out (it was), and what else we were potentially daring to happen. We quickly ordered, finished our meal, and didn't linger, ready if not eager to hunker down.
Maintenance is what's thrown into stark light now. We alternate, tend, reheat, boil, temper, soothe, situate, adjust, incline, rest, prepare, mend, clear, sweep, dress, feed, wash, and fold, in various orders, throughout the day. To 'work from home' transfers to the fabric, unfurling what had been so tenuously constructed as the divide between work and home. The particulars of my work do not translate (yet) to what I typically do, and so I'm left to care for what I have assigned valued to already. It's an amorphousness with historic precedent, a "care" that I've intertwined with mixed results this week:
Contemporary theorists and activists are also talking a lot about "care," which has more to do with the ethos and affect of maintenance than with its (re)productive capacities. Joan Tronto and Berenice Fisher define care as "everything that we do to maintain, continue, and repair 'our world' so that we can live in it as well as possible. That world includes our bodies, ourselves, and our environment, all of which we seek to interweave in a complex, life sustaining web." Maria Puig de la Bellacasa argues that caring involves an "ethico-political commitment" to the neglected and oppressed and a concern with the affective dimensions of our material world. We care for things not because they produce value, but because they already have value.
In "Maintenance and Care," Shannon Mattern warns us from romanticizing the maintenance work we're called to do. Even the care itself has been structured and layers in such a way as to replicate the assigned importance we've been told about it. Feminized labor may be allocated across a household, and feminized fields of labor may be re-deployed with vitality in a crisis like the one we find ourselves in. Mattern wrote the piece in 2018, but there's an exquisite prescience to what she describes in our desire to maintain, preserve, PRO-gress, contain, and yield. Even if we remain with just a fraction of what once was - a reality that many of us aren't ready to handle with imminent closures of favorite restaurants, bars, record stores, small presses, and so much else that makes modern life bearable. (RIP Candor Arts) Mattern closes by asking the questions we should all be asking ourselves right now: "Who gets to organize the maintenance of infrastructure, and who then executes the work? Who gets cared for at home, and who does that tending and mending? Agreements about what things deserve repair — and what "good repair" entails — are always contingent and contextual." When we finally emerge from shelter-in-place, which projects will we chosen for resuscitation? From which space will we begin the long, long journey towards restoration, and if so, what does the dreamspace look like?
***
I'm listening to incredible album right now: Birthmarks by Hilary Woods. It's industrial and spacey and discordant and melodic at once. (Big thanks to Seb for pointing me to it (and the Bandcamp special of delivering all proceeds of sales to artists) in his newsletter today. Supporting artists, especially musicians in this time where gatherings to hear and experience live music together are essentially eliminated, is absolutely vital.) But back to the album: it was recorded in Galway and Oslo (two cities I've actually been in and love), and according to the 'liner notes,' is "a journey through textural fog and feral density that gives way to passages of voracious sonic exorcism and poetic healing." And given how I'm sequestering myself here, it makes sense, yes, to listen to this right now. To the twenty-odd readers who might be seeing this missive, what are you listening to? What makes you feel in ways that you can't get to right now because of all the ways we're blocked from being with each other?
There were a few meditations on touch recently, things I routinely take for granted. This comic illustrates the psychology of touch, and how social distancing and all that it entails will be both a necessity and yes, a demotion. I find myself missing not touch exactly, but being in the same space as other bodies and not fearing closeness. Chance trips to the grocery store or passersby on the street are not the same. Since late January of this year, I've also been dealing with an ongoing issue of loss - specifically, the temporary partial loss of hearing in one ear. In response, I've gravitated to all sorts of sounds that I can "feel," a transmutation (?) of touch when my surroundings feel submerged in non-discernable echoes.
Touch is so lovingly deployed in these photos by Ojos Nebulosos (h/t to Kristin Freeman at the MoCP Chicago for highlighting this work). In "Quisqueyanas: Ferminas Salón, Puerto Rico 2015," Nebulosos shares patient, loving scenes of women at a beauty salon, of women tending to other women with joy or tenacity or both, with processes and standards and desires incorporated into rituals of Dominican women in Puerto Rico waiting and working with each to have each other's back. Walking into similar salons for South Asian women, there's ease, curtness, quickness, necessity, a sort of through-line temporarily uniting them in the pursuit of beauty and self-love. Given the current prohibitions against working with estheticians, nail technicians, and stylists, I find myself especially interested in the way Nebulosos's photos focus upon hands, a stray meal, the time, the time, all those minutes spent waiting for the lacquer to dry or the hair to set or the dye to settle. That time and touch that must wait right now.
***
Yesterday, with a mixture of curiosity and real need, I had an individualized meditation session via a Zoom call. Such is the extent to which I will to connect, even if it means more connection back to myself. Previously, I would complain about the length and waves of time that made my ever-wandering mind even more apparent. There were echoes in our backgrounds. The headphones I wear don't cancel ambient noise. At the conclusion of our session, I will myself to commit to another form of meditation the following day. Will it last? Perhaps. Really, whatever way I can find this elusive fellowship. In earnest, I tell myself this is not a drill, but then I read things like this and I pause:
LISTEN TO ME. The problem is your imagination. Stop using dystopia as your compass. Stop using metaphors. You have to live through this. We've been inside the house, inside the quarantine, for five days, and it is totally unreal even for people used to lying in bed writing. This is a proper quarantine, a real one, not just a brief dimming of everyday life. The newspapers are posting pictures of the empty Spanish Steps on their websites. They shouldn't enjoy this too much, that messes up your defenses. You need them. 
If you must, end with a bit of beauty. Listen to another album in full. Or another set of songs mostly without words that give enough room to pause (#14 on here is perfectly on point for this cloudy day now cold night). I haven't even mentioned the many habitual things we could watch or share, the memes that run through my infinite scroll that I in turn re-share and recommit to prolonging, a version of Dad jokes that probably have outrun their utility by the time I see them. Every so often, I do stumble upon beauty, and that's what I intended to make space for all along:
There's a beast in my belly, so they locked me out of paradise. I circle outside,

search for a new entry; when I throw myself on the gates, the fence burns

   my skin.

Please

, my tears freeze on my face. Weeks pass, and she moves from belly

to heart. With each pump, my blood purples, my teeth grow into sharp points.

On my knees, I scratch and dig, I growl. 

Let me in

. I cut my own tongue on 

   a canine,

mauve the river ice at my feet. Months go by. My head aches with her, my 

   eyes reflect

back a snowstorm. 

I am coming for you

. I shake the gates, I howl, I twist 

   and break

them open at last. Their fear has fed me, and I am warm despite the lack of 

   sun—

I make my own heat. When I am finished, I walk back out the gates—reborn 

   of ash,

I have crowned myself with antlers, and this world is my home.
From "Revelations" by Suzi F. Garcia, a poem that I haven't truly done justice to with the offhand formatting here. I started reading it and flinched. And that's probably what I should start doing more often: jolt myself out of the slumber.