Love in the Time of Coronavirus
Episode 16: Green vein in her throat green wing in my mouth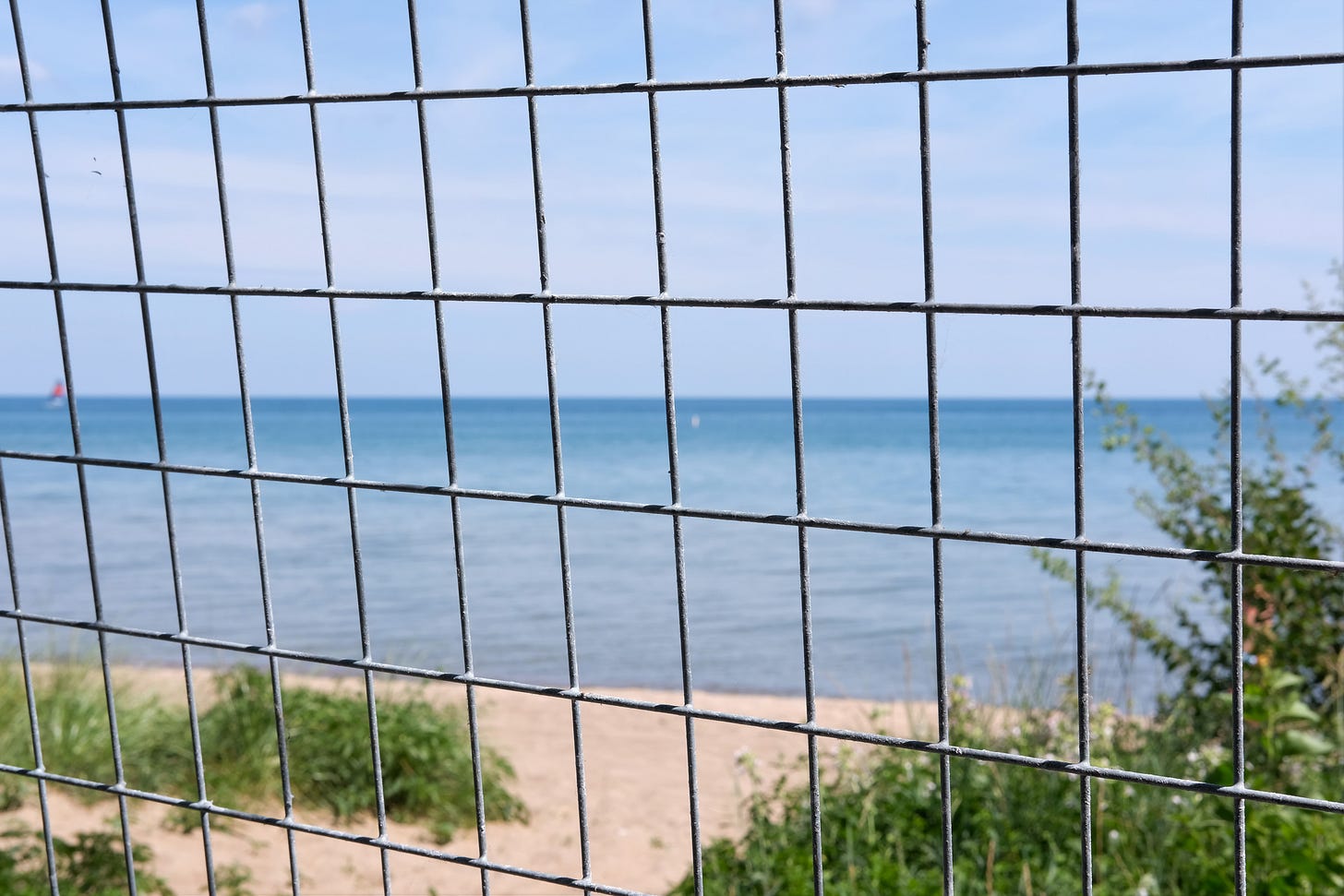 Hello.
Earlier this summer, my local park district decided to install a fence between the pedestrian path and the beach. Looking through the fence's rectangles gave me the impression of looking through elongated pixels. As I look through the fence, I see dog-walkers, picnickers, and birders ambling in different stages of undress under a hot sun - that is, until the weather turns, and now here we are, September. The sight of the fence, as though it could guard against a congregation of bodies not from a single household, as though it could demarcate a safety zone, is absurd, tantalizing. It's a grid made manifest, blocks of sky, water, cloud, sand, foliage, an idle sailboat, real life just beyond our grasp. 

"Water that is air, air that is time." That was the phrase introduced to me midsummer, a line from Octavio Paz's "As One Listens to the Rain." Written originally in Spanish and translated here by Paul Weinfield, the musicality of each successive line invites readers to pause and capitulate to a rhythm that may or may not actually exist in physical form but whose memory remains intact and sacred. Time is a non-time, we are continuing the experience the simultaneous compression and expansion of it in the ways we're also learning to shift the markers of what makes daytime light and what makes nighttime darker (h/t to David Nuñez's Soulful Computing). I feel it most specifically, here, where linearity is promptly denied, the voice insisting, "listen to me as one listens to the rain,/years go by, moments return," a lack of resistance, an unfolding of what's happening now. Any pause between lines is forgone as the reader is invited to keep following the train of thought, unwritten future, untold past, together.

Looking back at this photo of a fence so many weeks later reminds me of a manifesto I recently read from the artist collective Sirenes Errantes (Wandering Mermaids). They developed an online experience - a space of 'expanded sensitivity' - where participants can sign up to take part in a listening session:
Holding together in silence, logging the practice with words that compose a Collective Archive of expanded sensitivity; where multiple listenings enable a conceptual production, creating bubbles of meaning that express singularity. As the imposition of confinement as a preventive paradigm against the wave of COVID-19 contagion that some states implemented, Sirenes Errantes began composing practices that can host phases in common, and in that transit of encounters, give place to reciprocities that infect,
                                                                                                                                                                                                                                               overflow,
                                                                                                                                                                                                                                  collapse,
                                                                                                                                                                                                                                                                  invent.

Urban spaces -social cores- were closed with the implementation of social distancing, depriving us of touches, frictions, rubbings that spread modes of existence, and compose ways of life.

We ask ourselves: what collective possibilities do we still have today?
These scheduled, individualized, virtual performances seem to be intended as personalized sessions where the artists construct 'salt 'drawings' as a response to the singular 'non-time' one is experiencing based on verbal feedback one gives. Again, that phrase: what is time? And then, subsequently, what is non-time if that's what all this is called?
Shifting skies and water. Ebb, flow, burst, the ting and glint of bright sunlight. The rays are intense, and they're also a form of shelter, elongating shadows beneath trees. Park district employees loaf back and forth to ensure people aren't venturing into the water or leaving cars without proper permits. I see the water, I see the sand. I listen to the air, the murmur of waves, people passing. The grid that separates me from the scene in front of me is not quite, like a picture that I can't fully describe because a cellophane film is cast around my eyes. 
***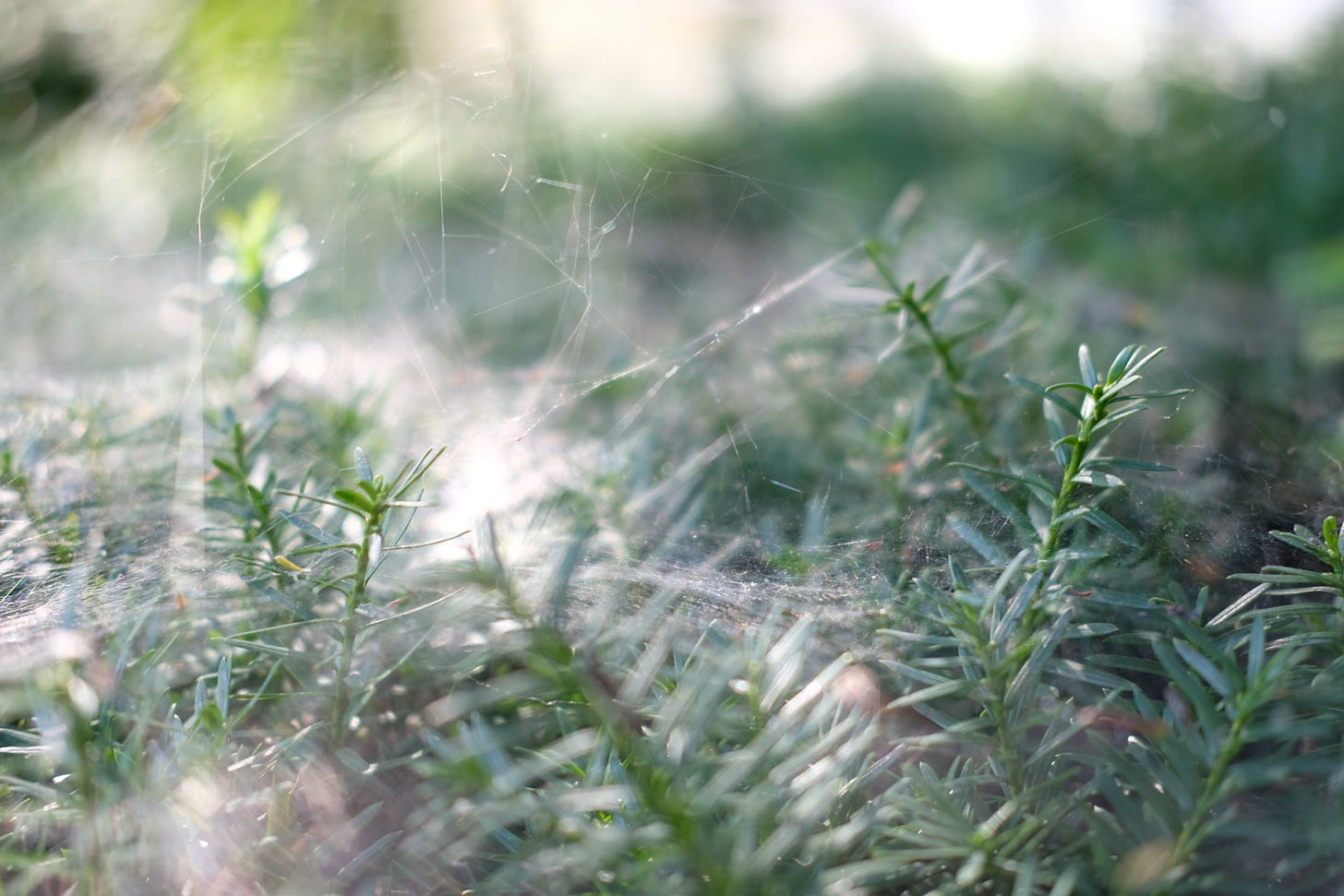 I'm reading "Ear Cleaning: Notes for an Experimental Music Course" by R. Murray Schafer (RMS for short). It's a series of lectures intended for introductory music students. Definitions and exercises are written with the goal of reorienting the reader to a profound and pure state of listening: it turns out that our ears are defiled. He writes that before our ears are trained, our ears must be cleaned. The ears "perform delicate operations" and thus, ear cleanliness is a prerequisite for anyone who wants to seriously listen to and play music. The text is rich with aphorism. A sample: "Noise is an undesirable sound signal. Noise is any sound signal which interferes. Noise is the destroyer of things we want to hear."

Last week, I gave a webinar for an online university's School of Information. The topic was how to make words like 'equity,' 'inclusion,' and 'accessibility' actionable in one's workplace, with details on how to form a committee and develop a charge, as well as what allyship in practice looks like. Disclaimer: I'm not certified or trained in any specific way to be a speaker on those issues. Rather, I share experiences and reflection on what it's like, as a person of color at a predominantly white institution, to get involved with any equity initiatives in the workplace. It's work that I care about, yes, though I always try to be very careful to note my humility and lack of credentialed expertise. There is no singular way to incorporate equity and inclusion into one's worldview, although there are many maps written about it out there that chart paths towards ending oppressive practices and behaviors in the workplace. Towards the end of my preparations, I felt as though I were swimming in words, wondering where they would end up, how they would impact anyone listening.
Something that struck me deeply while I was preparing for this webinar were the senses, and specifically, the ability to see (or be seen) and hear (or be heard). Oppression can be experienced as erasure, obscuring one from truly seeing. Noise could be interpreted as that which distracts from or contributes to oppression. Noise can also be a response to oppression. Noise is history, noise is context, noise is institutional. The noise signals movement, opposition, maybe delight in annihilation. Minus noise, there's silence. On silence, RMS writes: "Man likes to make sounds and to surround himself with sounds. Silence is the outcome of the rejection of the human personality. Man fears the absence of sound as he fears the absence of life. There is nothing so sublime or stunning in music as silence." Unlike RMS, though, I find silence and negative space to work in concert with noise, each subverting the other.

Given how webinars are recorded and shared, I had to cautiously and carefully construct a theatre inside my head. My particular theatre was small, without a stage, only concentric semi-circles of plush chairs facing one side of the room. This particular theatre had a table with a glass of water, a stool, and someone opposite giving me the cue that the screen (i.e. my slides) were finally visible. And that was how I transformed my lone self sitting a desk, speaking aloud to my laptop with headphones on my ears, looking at nothing and no one in particular, listening every so often for a speaker to come in and interject with a question, into a speaker with an audience. In my head, I was seen, in a way, and could be heard. I didn't have the benefit of acknowledging others or being seen, nor could I hear anyone else. Instead, I made myself seen and heard against the backdrop of hundreds of other people who come before me, telling their stories, sharing their maps. A recording of the webinar will eventually be made available, and I suppose that's proof that all of this actually happened. After I took a few questions, relayed by the organizer to me via audio, I logged out, unplugged my mic, and turned off the lights inside my internal theatre. There was no applause. There will be no applause. I later treated myself to a can of sparkling water because the fridge downstairs was mostly empty: working from home, circa 2020.
***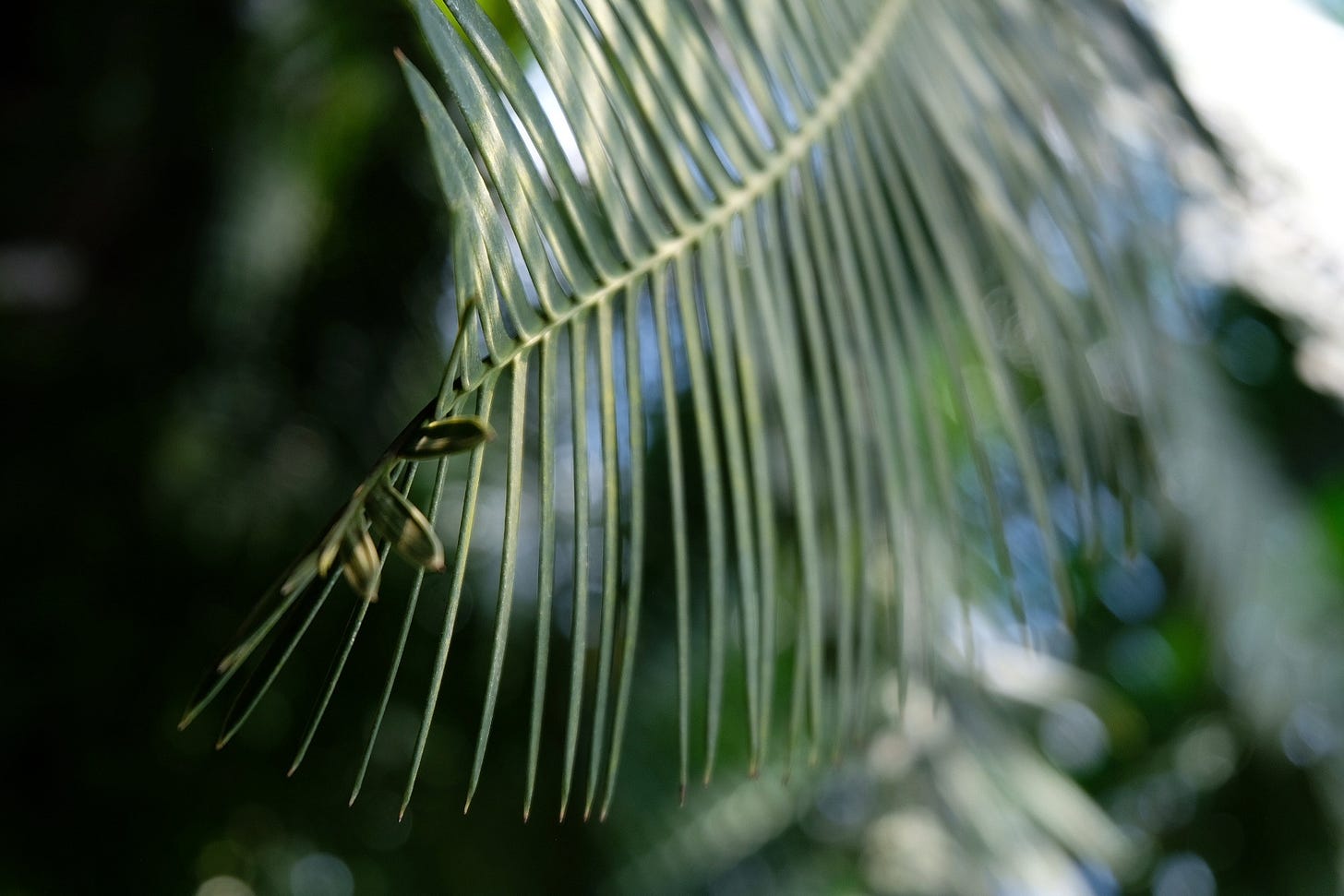 Months ago, I had recurring dreams containing a certain shade of green. Not quite a bottle green. Not as dense as emerald. It's this green flecked with pieces of blue and gold, green that beckons, green that pulses away. Not Hooker's Green, not olive green, certainly not neon green yet still fresh. I took the above photo on a late Monday afternoon in February. I was desperate for lushness in a season of sparseness. Always seeking a green to encapsulate myself within. Whenever I had the chance to steal away, I would wander a municipal garden, forest preserve, or conservatory, camera in hand, waiting for the precise moment to document the colors, textures, shapes that I'd been dreaming of because I rarely remember my actual dreams themselves, just the impressions they leave upon me when I awaken. Walking in between shrubs. Careening past hedges, moving branches offside, starring a map (if any existed), or marking landmarks along the way so that I could return and glimpse. My footsteps might quicken, and perhaps my heart rate may increase ever so gently. That wasn't the point. Instead, what held my attention was what I could compute. Colors, textures, shapes, the longer I looked at one thing it didn't stay the same. Blue could calm me, but I didn't want to be lulled into quiet necessarily.
And then, there it was. I didn't bother to write down the name of this plant, because its particular provenance didn't matter to me. Instead, I snapped a photo of it. There's a plethora of apps out there that could help me identify what it might be, as if the knowledge to name, classify, and separate would make the significance of this green any different.
Twenty years ago, I went through a phase. I was unemployed, unsure of what I would do next. My monthly source of funds was a credit card with a very specific balance that I was not to exceed. General precarity, coupled with a not-great dating situation, while sharing an apartment with an indifferent roommate in a squalid college town: your average young person chaos with a dollop of immense privilege since my safety net didn't let me fall through (completely). Every week, I'd spend at least one afternoon spooling through a video cassette: a restored edition of the film Vertigo. I was transfixed. Scottie's obsession eventually became my obsession. This green I share with you is a reminder of the greens of that film: mysterious, enchanting, verdant. Scottie (Jimmy Stewart), is obsessed with the idea of a woman named Madeleine (Kim Novak). 
For the uninitiated: Vertigo is a classic noir. Intrigue, doubled identities, misogyny brought together. In a scene where Scottie begins following Madeleine, we see a sliver of a door open up to a florist's shop. And there she stands, dressed in a smart, grey skirt suit, looking at a group of roses and asking for a particular bouquet to be created. I could go on about the parallel patterns and tropes Hitchcock bludgeons viewers with, but that's not the point. What matters is that Madeleine is green, or rather, all that green could promise, and whether we want to admit it or not, we (like Scottie) are hypnotized. Duped.
Halfway through the film, Scottie is locked deep in a nightmare. The camera focuses on his face, and the detective, so accustomed to being a voyeur, is now both his and our object of fascination. It's his mind that we're peering into: we're plunged into an animated rose that explodes into greens, reds, and purples. Green is rebirth, green is finally here and everywhere, but green in the dark of winter is lost, caught in small slips, artificially propped up in a humid greenhouse. Green, each time, is what draws Scottie, exhilarated and spent at the precipice of a dream that will never be his, i.e. an idea of a woman that actually never existed.
***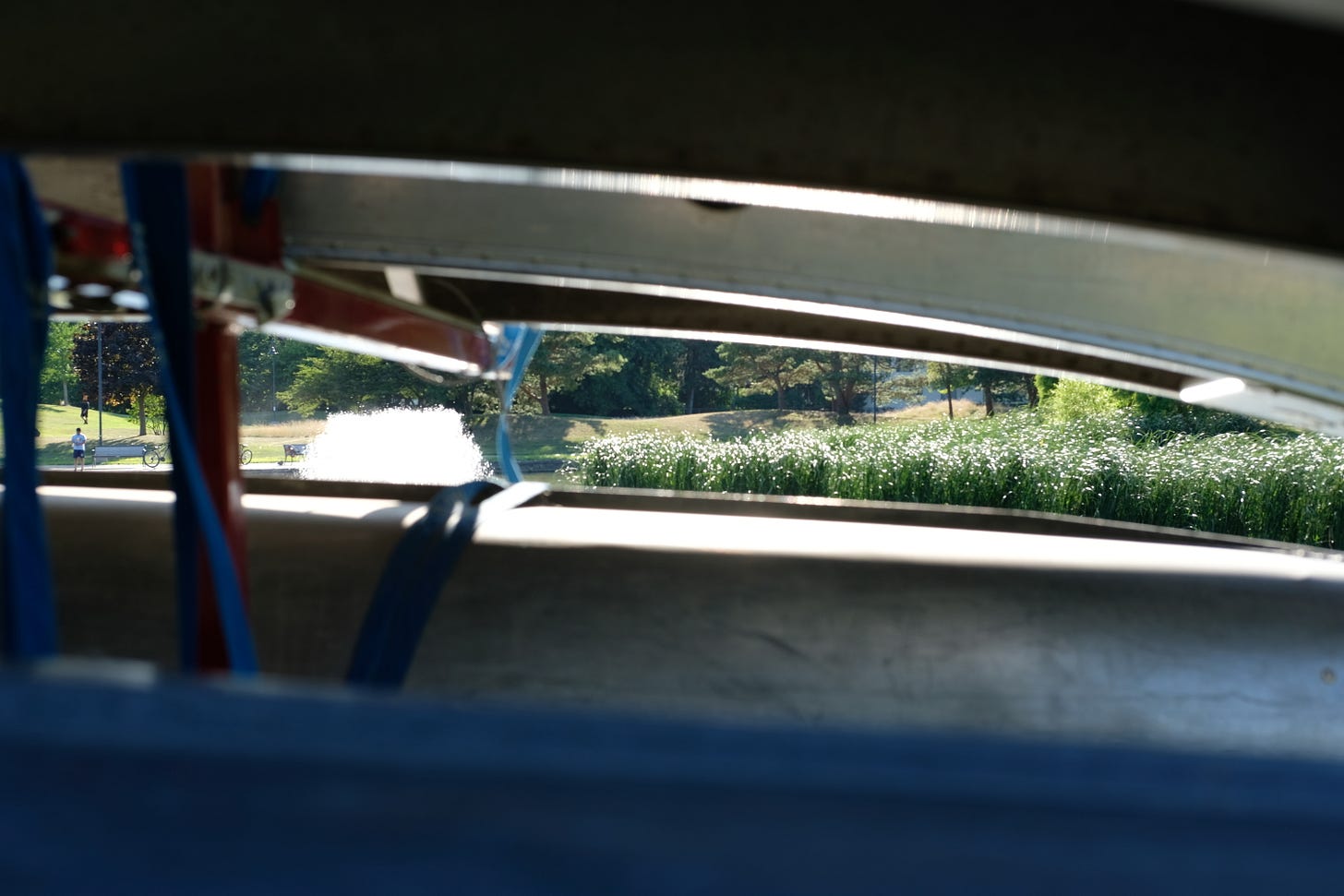 So much stuff to read, watch, listen, experience at once. So little prioritization as we lean over to take a sip or bite before moving onto the next, and the next. And so when there is a suggestion of a zeitgeber (again, via David) in which light, sensory stimuli, social interactions like mealtimes or even (evil of evils), regularly timed short interactions via your organization's messaging platform of choice, then we are once more acclimated to the world in ways that we can actively chart. Weekdays blur into weekends, a 'day off', especially for those of us who remain mostly homebound. The 'zeitgeber' or 'time giver' could be: a child waking and asking for breakfast, the sound of a radio broadcast, the sight of two women leaning forward side by side on the pavement while they measure their daily step goals. With the typical markers of time vanquished by varying levels of quarantine and shelter-in-place, we find ourselves off-sync with even the people who live next door who may have adopted another approach to pandemic safety.

Aaron Lewis wrote a blog post earlier on the ways time gets warped and plundered and referenced into its own pantheon via Internet subcultures. Such subcultures - whether on Reddit, Discord, or even the meme culture explosion on TikTok or Instagram Stories - assumes symbols and creates a discourse that act as zeitgebers themselves. This proliferation of subcultures has blossomed into a garden of memes, summarizing and commenting upon cultural events as they happen, creating a lingo onto itself, a process that's accelerated during various stages of lockdown and shelter-in-place:
Sometimes you can sense the current pushing you this way or that. Other times, you're totally in the dark. It's certainly possible to swim against the current, but it takes a lot of effort and awareness. You usually end up in a digital "neighborhood" without quite remembering how you got there. The veterans of a particular subculture are its timekeepers, and they live in its present. They've seen enough people "come of age" that they have a sense of the well-trodden routes and the traps people tend to fall into.
Whatever ideals I may have entertained about normalcy are shattered. In its place is a container full of links, or a sporadic 'nudge' on one of several platforms I might be doom-scrolling through at the moment. Aaron writes that imagining the future is also a form of making memory - of a forward-looking nostalgia, which I see as yet another zeitgeber that we hold on to like a life vest. All of this gets complicated when we factor in algorithms that calculate how we might want to react when indeed, emotions are complicated: "Our memories evolved to surface emotions, stories, and information from the past that might help us survive. We don't have complete control over what we remember and when — there's a subconscious system that "finds" old memories and "projects" them onto our mind's eye."

What does it mean to come of age - again - in this period of fast vs. slow? In late August, I added another project to my list by starting grad school. I'm studying the ways information is retrieved, how it's shared and cared for. Through the same ticket, I am also getting the credentials that may get me beyond the lobby that makes this field so compelling. But as we know, being seen and heard are never quite what we think they'll be, particularly for people who aren't white. To quote Sara Ahmed, to be a feminist is to be a feminist at work. Such work is often done on committees in order to be accommodated. Sometimes, doing precisely that committee work can reify complicity. She writes of the feminist killjoy doing diversity work: "This is why diversity work is work: it is not enough to open the door. For some of us to be in the room requires stopping what usually happens in that room, the usual is the structural in temporal form; otherwise some of us would be, as it were, displaced by the letters in the box."
Meanwhile, context, particularly in these gardens of memes, is what charts my day, tells me how to respond to night or day, helps me reconcile with who died and what legacy crashed along with them. Even through the increasing use of our platforms that wipe away context or rather, assume certain pre-ordained knowledge of contexts, until we're finally left with no one really understanding us (except if, by understand, we mean the way an algorithm understands us). Which, I admit, is bleak. So it's altogether radical when someone, somewhere, decides to take it upon their selves to share something they're obsessed with at that moment as a manner of zeitgeber because fast or slow, we're still moving to nowhere at a speed we never imagined.

***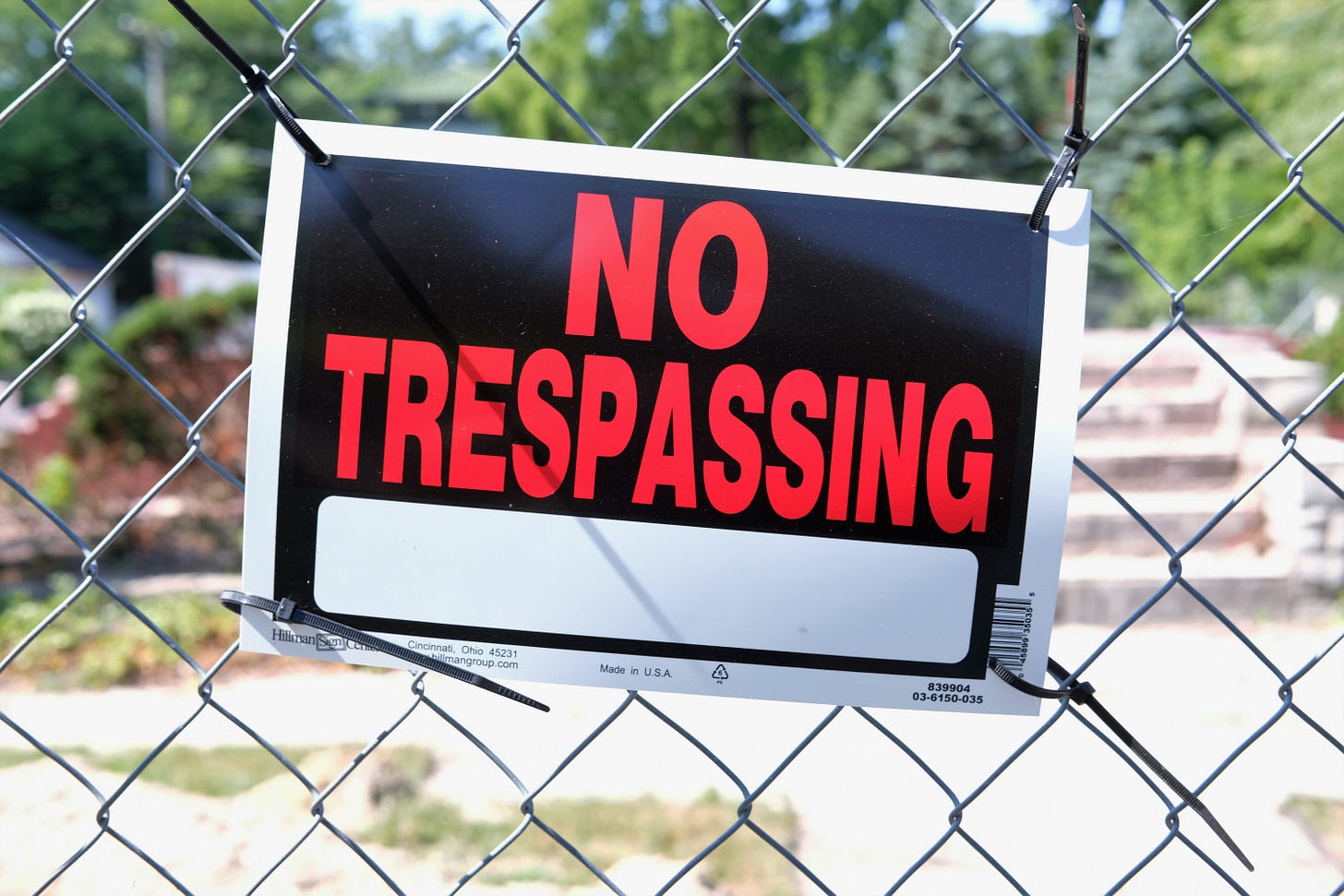 Yet it's not all doom and gloom when it comes to the generative power of memes. Recently, I've been curious about and quietly raving about the ideas behind glitch feminism. I've yet to purchase curator Legacy Russell's book on the topic, but this was a good primer to the book's themes - and the movement more broadly:
No part stands alone, and so for Glitch Feminism the digital arena becomes a regenerative site of creative and artistic experimentation wherein new selves can first be born via online performance, then borne beyond as the performing individual makes physical these online avatars, making social and cultural space for new faces, redressing the construct of corporeality as we know it—and, in the convergence of these contributions, doing so with some collectivity.
What is the glitch? Who gets to write within and beyond? Technology has always been glitchy. Buffering pages, bandwidth limitations, buried references - all of these things that underscore the lag between the real-time we might share versus the online-time we're experiencing with lags of all kinds. The glitch, then, is also a way to reclaim a corporeality. Far be it from me - a brown, cisgender, heterosexual woman - to attempt to define what possibilities have been mapped, shared, retraced, memorialized, and broken apart by queer bodies. I am, as always, learning about and observing how the IRL is nothing but a construct. How one gets seen and heard in this 'new' paradigm is an old conversation that's been redirected and shifted.
There's immense anxiety around the glitch: the city-wide blackout, the Zoom-bomb, the image pixelated. The Internet is not an esoteric corner: it is reality. Life bound up in the 'extremely online' also gives space to the ways we can realize ourselves off-line. 'Ghosting' the body is a form of liberation in this landscape. Choosing how and when to show up, and what that corporeality could look like, is precisely the point. Choosing what platforms to use and finding ways to subvert them, even via an absence, of glitching the tools, is a form of power.
***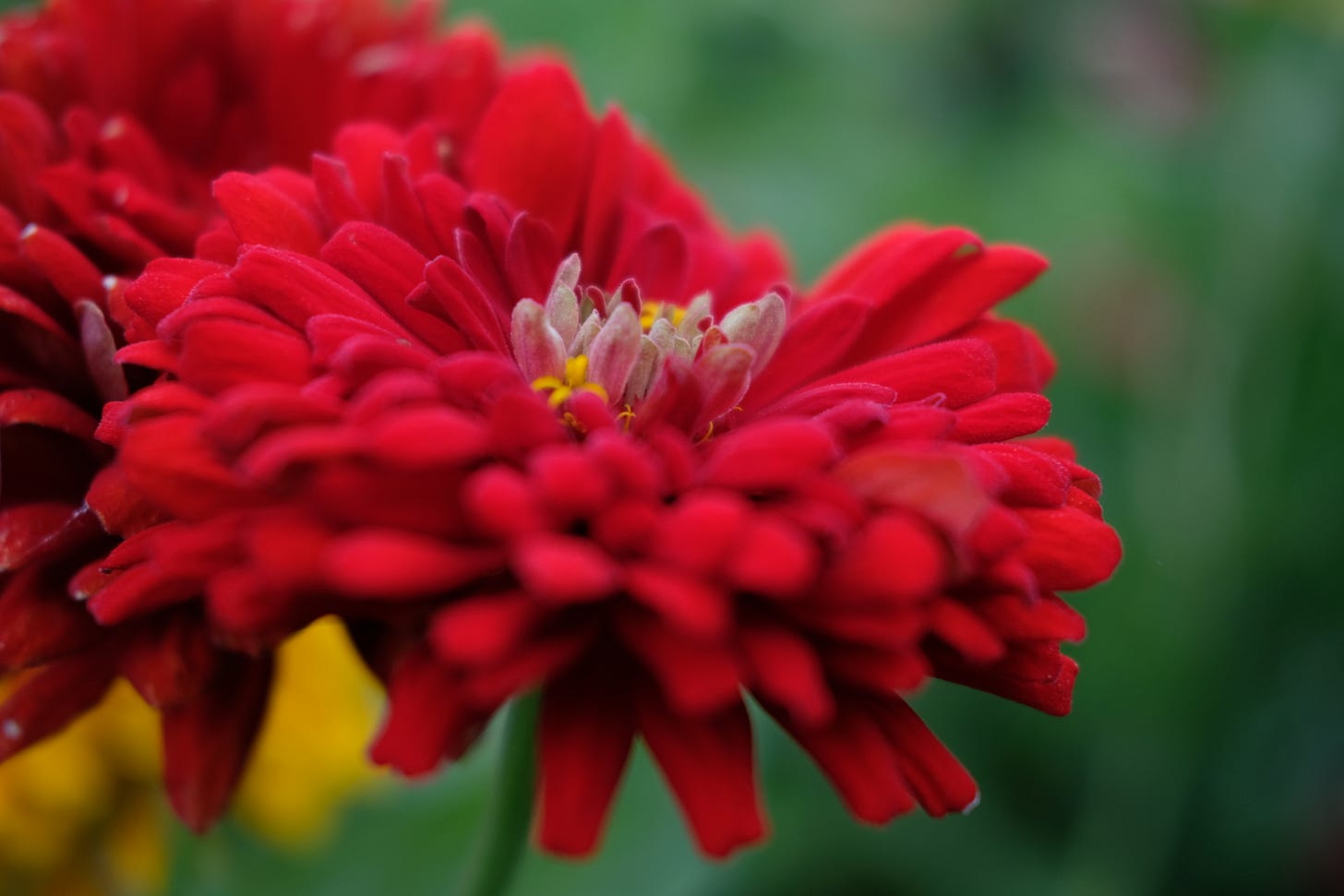 I'm obsessed with the fullness of yellow inside green, how it makes reds even more intense. Red stands in for passion, red is anger, red is danger, red is what I want alongside green, and red is what I give you now. Not a cadmium red, not a cherry red, a red closer to scarlet but less orange, splayed in the petals of this zinnia-like plant that I didn't take the time to look up because, of course, it's the color I want to give you first.
When I reckon with red, it's the color of vermillion placed on a woman's forehead and scalp that I recall first. It's auspicious red. Red set atop a field of green and intended to extend our gaze longer. I read red with you, I'm drawn to red when it's not enough to engulf my eyes in green. When I took this photo of a red flower, I was walking outside of a Ba'hai house of worship. The building has been here since the 1920s. It rises marvelously next to the lake, with intricate architecture and carvings, along with a series of small gardens and fountains intended for contemplation and prayer. In pandemic time, it's become the backdrop to many a staged graduation or engagement photo, or even a TikTok video. On one of several walking paths, I circle around the gardens and always, hone in on a color to keep my eyes alert.
Essayist Katy Kelleher wrote for The Paris Review about incarnadine red, and the red I share here is not quite that - but I quote her here anyway because there's something in the red I caught that makes me wonder what it might be at its endpoint:
For several centuries, incarnadine bridged that gap; sometimes the noun was used to refer to a washed-out red or even peach, but just as often incarnadine was used to describe a richer, deeper hue. But whether it was used to describe the pale pink of a healthy nail bed or the dark brown of a dried scab, incarnadine remained a color that pointed toward the human body, that source of continual mystery, fascination, and speculation.
Red as the blood before it dries. Red as the antithesis of Madeleine, who's later revealed to be a ghost or a Judy, depending on how you decide to approach Scottie's story arc. Green and red, these are the colors that when combined are muddy, but separately they tingle and shimmer. Green and red, not the commercialized colors of scotch-tape or winter holidays or nationalism. Green and red, and the echoes of yellow and blue within each. Green is what I will inevitably fall back upon when the cold hits again, and red is what I will probably wake up to in the middle of a dream.
***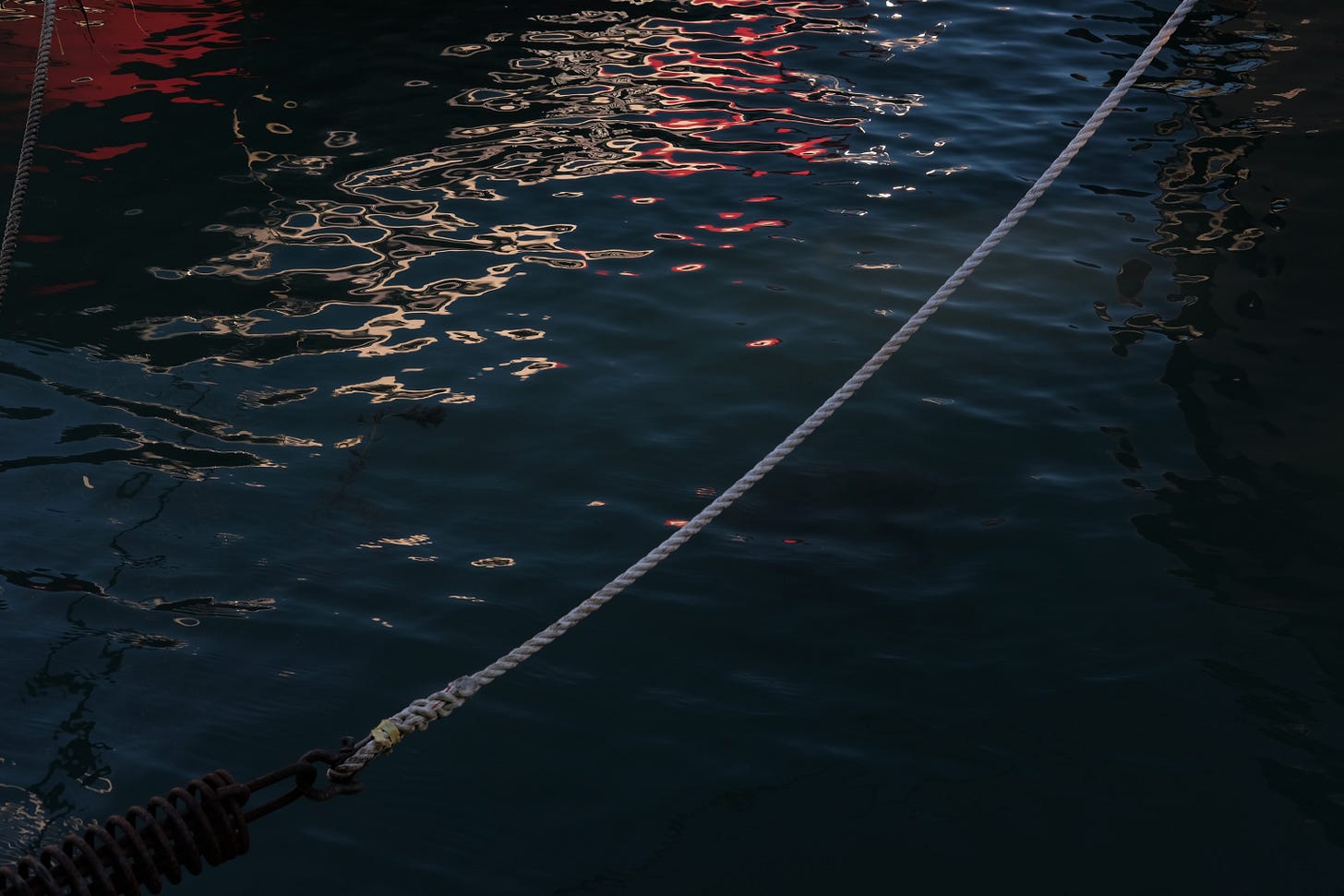 Let's end this with "From the Desire Field" by Natalie Diaz:
I don't call it 

sleep

 anymore.
             I'll risk losing something new instead—

like you lost your rosen moon, shook it loose.

But sometimes when I get my horns in a thing—
a wonder, a grief or a line of her—it is a sticky and ruined
             fruit to unfasten from,

despite my trembling.

Let me call my anxiety, 

desire

, then.
Let me call it, a 

garden

.

Maybe this is what Lorca meant
             when he said, 

verde que te quiero verde

—

because when the shade of night comes,
I am a field of it, of any worry ready to flower in my chest.

My mind in the dark is una bestia, unfocused,
             hot. And if not yoked to exhaustion

beneath the hip and plow of my lover,
then I am another night wandering the desire field—

bewildered in its low green glow,

belling the meadow between midnight and morning.
Insomnia is like Spring that way—surprising
             and many petaled,

the kick and leap of gold grasshoppers at my brow.

I am struck in the witched hours of want—

I want her green life. Her inside me
in a green hour I can't stop.
             Green vein in her throat green wing in my mouth

green thorn in my eye. I want her like a river goes, bending.
Green moving green, moving.

Fast as that, this is how it happens—
             soy una sonámbula.

And even though you said today you felt better,
and it is so late in this poem, is it okay to be clear,
             to say, 

I don't feel good

,

to ask you to tell me a story
about the sweet grass you planted—and tell it again
             or again—

until I can smell its sweet smoke,
             leave this thrashed field, and be smooth.
Spending hours in front of the white light, still dreaming in green and red. What colors do you immerse yourself inside, and what do those dreams sound like?
***
This is Episode 16 of "Love in the Time of Coronavirus," a semi-regular check-in with vignettes, questions, and other ephemera related to spaces and beauty-seeking during a global pandemic. There are quite a few links in this piece that I encourage you to click on, but if you don't want to have a trail of tracking codes activated each time you click, then here's the full list of links for you to cut and paste into your browser.
https://paulweinfieldtranslations.wordpress.com/2014/12/07/octavio-paz-as-one-listens-to-the-rain/

https://www.scientificamerican.com/article/a-monday-is-a-tuesday-is-a-sunday-as-covid-19-disrupts-internal-clocks/

https://buttondown.email/davidnunez/archive/soulful-computing-time-is-weird-in-2020/

https://escuchasion.space/

https://monoskop.org/images/2/2d/Schafer_R_Murray_Ear_Cleaning_Notes_for_an_Experimental_Music_Course.pdf

https://ischool.sjsu.edu/webcasts/beyond-platitudes-making-edi-actionable

https://incluseum.com/2020/06/10/cartography-a-black-womans-response-to-museums-in-the-time-of-racial-uprising/

https://www.sparknotes.com/film/vertigo/summary/

https://en.wikipedia.org/wiki/Zeitgeber?utm_source=davidnunez&utm_medium=email

https://aaronzlewis.com/blog/2020/07/07/the-garden-of-forking-memes/

https://feministkilljoys.com/2020/01/10/feminists-at-work/

https://www.legacyrussell.com/GLITCHFEMINISM

http://beingres.org/2017/10/17/legacy-russell/

https://www.theparisreview.org/blog/2018/03/19/incarnadine-the-bloody-red-of-fashionable-cosmetics-and-shakespearean-poetics/

https://poets.org/book/postcolonial-love-poem